We are excited about our upcoming On The Go Festival in Chiang Mai, Thailand, October 10-18. We have evangelists and volunteers coming to help us share the Good News about Jesus at the Festival.
Our team and collaboration partners have worked tirelessly over the past year. They are trusting God to do great and mighty things.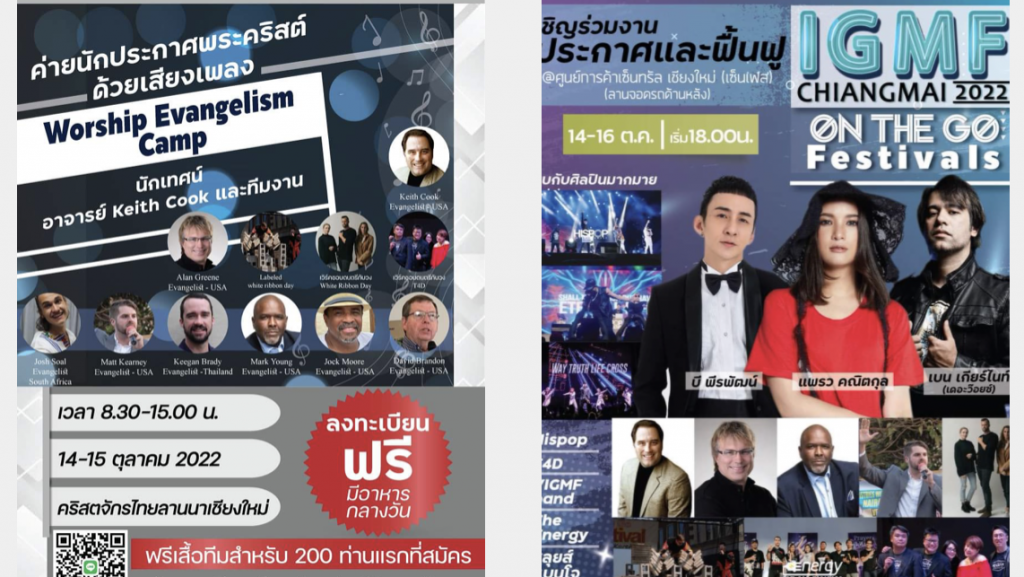 This area-wide On The Go Festival is a massive three-night open-air festival with international bands, feats of strength demonstrations, and many Gospel presentations daily.
We are sponsoring 30 pastors from Cambodia to attend our 2-Day Evangelism Conference (Camp) along with many pastors and evangelists from Thailand. The leaders are excited that we will be sharing and teaching about various outreach methods and strategies.

We also will be reaching out and blessing area churches by sending our team to their churches to encourage, motivate, bless and fellowship with them on Sunday morning.
We have many outreach programs that will be going on in various communities, including youth rallies, children's home programs, children's feeding programs, and the distribution of clothing.
We need your prayers as we share the Word of God in Thailand. We know that with your prayers and God's provision, we will see many people come to faith in Christ.
You can be a real blessing to us by also making a donation, as the Lord leads. We want you to be a part of what God is doing there.
Together we can be a part of an extraordinary move of God in Thailand.
Joan and I appreciate you!
In His Service, Keith
Special Thanks To Our Thailand Collaboration Partners
Luis Palau Association
Global Network of Evangelists
LifeLight
COSBE
Street Chaplains
The Xtreme Team
White Ribbon Day
MASY Ministries
GUM Ministry
IGMF
Pray For The International Team
Keith Cook – Evangelist – On The Go Ministries
Rick Willison – Evangelist – The Xtreme Team
Alan Greene – Evangelist – LifeLight Ministry and GNE Associate
Josh Brewer – Evangelist – LifeLight Ministry CEO
Matt Kearney – Evangelist – On The Go Ministries and Founder of Street Chaplains
Mark Young – Evangelist and Missionary – MASY Ministries – USA & Zambia
Tish Young – Evangelist and Missionary – MASY Ministries – USA & Zambia
Keegan Brady – Missionary to Thailand – Global Network of Evangelists
Josh Soal – Evangelist – Global Network of Evangelists – South Africa
Jock Moore – Evangelist – GUM Ministry – USA & Thailand
Zach Blickens – Recording Artist- White Ribbon Day and Evangelist – On The Go
Sarah Blickens – Recording Artist – White Ribbon Day and On The Go
Kailah Blickens – Recording Artist -White Ribbon Day and Evangelist – On The Go
Sierra Zurcher – Recording Artist – White Ribbon Day and On The Go – USA & Europe
Pierre Zurcher Audio Engineer – White Ribbon Day and On The Go – USA & Europe
David Brandon – Evangelist – USA Festival Director and Vice President of On The Go Ministries – Keith Cook Team
Manop Moonsri – Festival Coordinator – International Event and Concert Promotion – Thailand